Surrey contributed 'second most tax' to Exchequer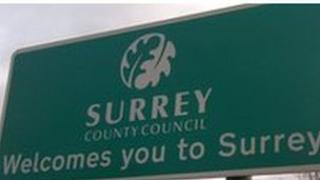 Surrey contributed more income tax to the Exchequer between 2009 and 2011 than anywhere apart from the City of London, the county council has said.
The authority said new figures show the county's economy grew by 7% during that time, despite the recession, and generated more than £30bn annually.
A new group - Surrey Future - has now been launched to help boost business.
It said its initial focus would be tackling overcrowding on trains and congestion on the roads.
Surrey County Council said Surrey Future would bring business leaders, the county council and the borough and district councils together and establish investment priorities over the next 20 years.
A report to the council's cabinet by deputy leader Peter Martin said Surrey's economy had gone "from strength to strength" over the past two decades, with the county contributing almost £6bn a year in personal income tax, second only to London.
'Major gateways'
There are about 600,000 jobs in Surrey, and although unemployment has risen during the recession, levels are below the national average, the report said.
"The county benefits significantly from major international gateways, particularly the airports, and from proximity to London and associated road and rail connections," it added.
But the document said the county's success had led to congested roads, high house prices and inadequate infrastructure.
"Surrey's very success creates a significant challenge to its global competitiveness because of the way in which investment in critical infrastructure lags behind the need generated by strong growth," it added.
David Hodge, leader of the council, said: "Surrey is an engine room for the national economy and a centre for innovation.
"Sustained investment is vital if we are to accelerate the recovery and lead the rest of the UK into prosperity.
"Investing in the county's overburdened roads and rail network will be key to this because good travel links help businesses run more efficiently while making the best possible use of land will play a big part in accelerating development."