Shepperton voted 'best-kept' Thames lock for second year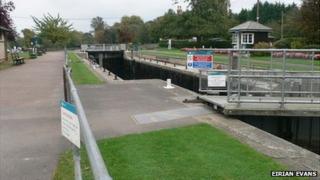 Shepperton Lock in Surrey has been voted the "best-kept lock" on the River Thames by members of the public for the second consecutive year.
There has been a lock at Shepperton, near where the rivers Wey and Bourne meet the Thames, since 1813.
The lock has been extensively renovated by the Environment Agency, which instigated the Thames Waterways Awards.
Steve Newman, lock-keeper, said winning the award again made "all the hard work" of running the site worthwhile.
"The Thames has always had a good reputation for its picturesque locks and lovely gardens and this competition can only enhance its reputation for being the best manned waterway in the world.
"Long may it continue," he said.
Other locks were awarded commendations because of a high level of positive feedback from many people.
Bray, Hambleden, Goring and Eynsham locks were all singled out by river users.