Surrey County Council to speed up pothole repairs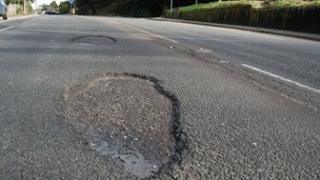 Roads in Surrey are to be inspected more often to try to improve the repairing of potholes.
The busiest roads are currently inspected four times each year but Surrey County Council will increase this to once a month, making it easier to plan resurfacing work.
The council said more permanent repairs of potholes would be completed straight away instead of temporary fixes.
A two-hour deadline for repairing dangerous potholes will remain.
Councillor John Furey said: "By inspecting our roads more often and through planning pothole repairs up to five days ahead, we can make more permanent fixes first time and set aside the time to repair more of the defects in a road at once."
The cabinet are set to meet on 26 March to agree the proposals which form part of a reorganisation of the county council's highways department.
The council has announced 310 miles (500km) of the county's worst roads will be resurfaced over the next five years at a cost of £100m.