Drivers on mobiles blame wives, bosses or Facebook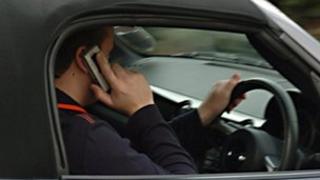 Drivers caught using their mobile phones in Surrey have blamed "ranting" ex-wives, over-zealous bosses and pregnant spouses, according to police.
One driver admitted failing to see a red light because he was on the phone and another denied making a call saying he was only using the internet.
Surrey Police and Surrey County Council have released the excuses in a campaign targeting the illegal use of mobiles.
Councillor Kay Hammond said offenders were four times more likely to crash.
"It may be tempting to answer a call or check your Facebook while driving, but it is a huge distraction and the consequences can be devastating," said Ms Hammond, cabinet member for community safety.
"Your reaction times are 50% slower and you are more likely to drift across lanes."
'Gone into labour'
One driver stopped by police said: "It was my ex-wife harassing me, can you speak to her?"
A father-to-be said: "My wife is having a baby and I thought she may have gone into labour."
Other responses from motorists caught using a phone include:
"My boss called to see where I was."
"I'm not on the phone, I am looking something up on the internet."
"I wasn't calling anyone, I was replying to an email."
"Sorry, I didn't even see the red light, I was on my phone at the time."
Drivers who get caught using a hand-held mobile face three penalty points on their licences and a £60 fine.
Duncan Brown, head of road safety at Surrey Police, said: "Police officers are only too aware of the tragedies that follow lapses in concentration.
"Texting, updating social media sites or reading emails takes the attention away from driving safely and even a momentary lapse in concentration can mean life or death for the driver or other road users."