Epsom disused chapel to be run as community space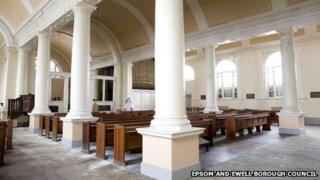 A Surrey council is looking for people to convert a disused chapel and run it for the benefit of the community.
The Grade II listed chapel was built in the grounds of the former Horton Hospital in Epsom.
When the chapel was transferred to Epsom and Ewell Borough Council in 2004 it was on condition it was used as a community space.
The council said it was unable to fund the project and is looking for groups and individuals to become trustees.
Councillor Neil Dallen said: "Ideally what we would like is a local community group to set up and run the chapel for and on behalf of the local community, perhaps renting part of the building or letting it out for specific periods to a commercial operation to help finance the community use."
Horton Chapel was built in 1901 to serve the Epsom Hospital cluster of five mental hospitals and was in the grounds of the former Holton Hospital, now known as Livingstone Park.
Mr Dallen said: "In the present economic climate the council cannot afford to take on the chapel as an ongoing concern and, following any conversion, the new venture will have to be self-financing."