Surrey County Council unveils 'trading arm' plan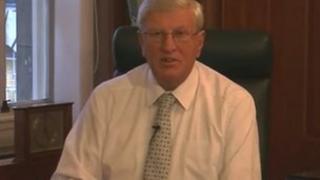 Plans to go into business and earn income to spend on public services have been unveiled by Surrey County Council.
The authority wants to launch a "trading arm" where it would charge other organisations for services.
The council said the cash would be used to improve front-line services and "keep a lid" on future tax rises.
Council leader David Hodge said local government could no longer rely on Whitehall for funding and had to find other ways of providing services.
He said the council had already earned £1.7m from a joint venture with private firm Babcock 4S, which provides education support.
Mr Hodge said the council's plans for a trading arm were "bold and innovative" and would help the local authority fill the gap left by a reducing government grant and also keep any future council tax rises down.
He said if the plans were approved, opportunities for selling services would be explored further, starting with areas such as IT and HR.
The cabinet is due to consider the plans next Tuesday.