High Court injunction halts Cherkley Court work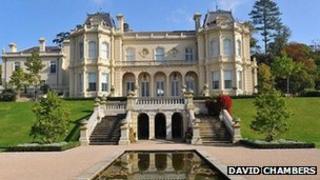 An injunction halting work on a hotel and golf course at Lord Beaverbrook's former Surrey home has been granted at the High Court.
Mole Valley council gave developers Longshot permission to turn Cherkley Court, near Leatherhead, into a hotel and an 18 hole golf course last year.
Local objectors and the Campaign to Protect Rural England (CPRE) won the injunction on Tuesday.
It stops work until a judicial review into the planning decision is heard.
The CPRE claims the Cherkley Court plan will harm biodiversity and has said the county already has 140 golf courses.
But Mole Valley District Council said the advantages of the scheme outweighed points made by objectors.
John Northcott, cabinet planning spokesman, said the development would see the historic, privately-owned house reopen for public visits.
He added that it would provide new public rights of way across the estate, and create nearly 200 jobs.
Cherkley Court was closed to the public in 2009 due to falling visitor numbers and put up for sale the following year with an asking price of £20m.
The estate was the home of press baron Lord Beaverbrook and his family between 1910 and 1995.