Woking Palace: Lottery grant funds archaeological dig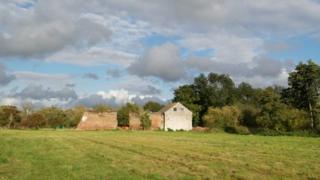 Up to 1,000 young people will have the chance to take part in a series of archaeological digs at the site of a former royal palace in Surrey.
The work will take place at Woking Palace with the help of a £306,000 Heritage Lottery Fund (HLF) grant.
Professional archaeologists from Surrey County Council and experienced volunteers from Surrey Archaeological Society will also be taking part.
Woking Palace was an important Tudor base during the Wars of the Roses.
It was originally owned by Henry VII's mother, Margaret Beaufort, and later improved and expanded by Henry VIII and Elizabeth I.
The palace was sold by James I and later demolished, and little of the structure remains today.
Deer park
Key aspects of the HLF bid were volunteering and learning, and those working on the project will be able to train for accredited archaeological skills.
Excavations will take place over the next three summers.
"These funds will enable us to learn much more about the history of this beautiful moated site and its 590-acre deer park," said Jean Follett spokeswoman for the Friends of Woking Palace.
"We hope the project will throw light on the development of the important early manor house from the 12th Century through to its transformation into the Tudor Palace."