Surrey PCC Kevin Hurley in zero-tolerance policing plan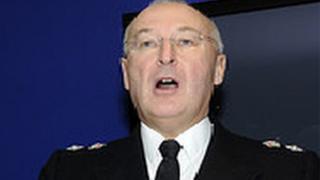 Police in Surrey have been told to prioritise victims, increase visibility and take a zero-tolerance approach.
Police and crime commissioner (PCC) Kevin Hurley has set out his strategy for his time in office.
He said a "target culture" had negatively affected policing in Britain over the past 20 years.
The former Scotland Yard borough commander said his plan set no numerical targets but was based on "the simple principle of zero-tolerance".
Webcast meetings
He said: "Nobody joins the police to chase targets. They join to do the right thing for the public. I want to liberate our police to do that."
Mr Hurley added: "No targets does not mean no accountability."
He said he would be holding Chief Constable Lynne Owens to account by continuing to webcast his management meetings with her.
Other priorities set out in the police and crime plan were to give people the opportunity to have a greater say in how their streets were policed and a pledge from Mr Hurley that he would be uncompromising over policing standards.