Addlestone Food Bank demand peaks during cold March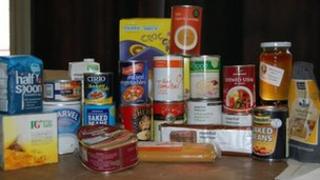 Demand for a food bank in Surrey has reached its peak since it opened last year following cold weather in March.
In the past 12 months, Addlestone Food Bank has helped 532 people but 105 of those requests for help came in March. The monthly average is 45.
High demand has continued into April with nearly 30 people visiting in two days, manager Samantha Stapley said.
She said people had been struggling to pay heating bills, and benefit delays and changes were having an impact.
"We're seeing pensioners turning off their heating, families going to bed early, families sitting in their coats all evening simply because they are concerned about putting their heating on," Ms Stapley said.
She said the peak in demand during March had come as a shock and had led to a "massive impact" on stock control and volunteers.
The food bank, which is run by the Trussell Trust, opened last February.
People who use the food bank are identified by social workers, health workers, the police and Citizens Advice staff and receive vouchers to exchange for three days of emergency supplies.
Last week, the Met Office said freezing temperatures in March had made it the UK's joint second coldest since records began more than 100 years ago.