Body of horse found near Effingham railway tracks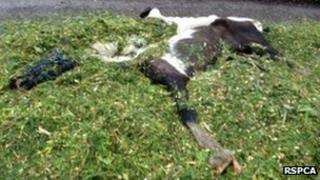 The body of an emaciated horse has been found covered in hedge clippings near to railway tracks in Surrey.
The piebald mare, wearing a maroon rug and a blue head collar, was found early on Wednesday at Effingham station.
RSPCA inspector Emma Swadlo said the horse, which was almost hidden from sight, had died "quite recently" and was believed to have been dumped there.
She added the hedge clippings appeared to have been deliberately left there to conceal it.
The horse was not micro-chipped, and did not appear to have been well-looked after, the RSPCA said.
Anyone with information about the owner, or who saw anything suspicious between Tuesday night and Wednesday morning, is urged to contact the animal charity.