Surrey roads 'to be made pothole proof'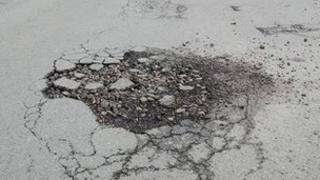 Plans to tear up 300 miles of the worst roads in Surrey and rebuild many of them with materials designed to last a decade have been unveiled.
Surrey County Council said the "pothole proof" roads came with a 10-year warranty which would see the contractor covering the cost of any repairs.
The work is to be carried out over the next five years in a £100m project, highways chief Jason Russell said.
He said the full list of roads to be replaced would be announced in June.
The assistant highways director said a "Herculean effort" was going into fixing road damage in the county after a bitterly cold winter.
He said repairs were being made at a rate of nearly one every five minutes.
But he added: "We can't go on papering over the cracks with quick fixes to tired old roads forever.
"Our main problem is that some of our roads are crumbling at the base, making them very susceptible to damage."
He said many roads would be rebuilt from scratch making them resistant to potholes for a decade.