Southern Pro Musica set to provide classical music in Guildford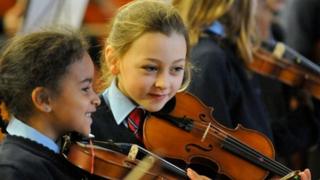 A £60,000 grant for a freelance chamber orchestra to provide classical music in Guildford is set to be approved on Thursday.
It comes after the borough council decided to stop Guildford Philharmonic Orchestra's £190,000 grant last year.
The authority said classical music should be provided "in an alternative way" to make savings while still supporting the arts.
Southern Pro Musica (SPM) is set to provide classical music until 2017.
The now-discontinued Guildford Philharmonic had been funded by the council as part of its arts provision since the orchestra's inception in 1945, when it was the Guildford Municipal Orchestra.
The council said it had cost 2% of council tax income.
The authority said SPM's expertise would add to Guildford's "long tradition of live music", and strengthen the already "wide cultural programme".
'Terrific achievements'
SPM said it would present a number of concerts each season and would offer free tickets to under-18s.
The orchestra's spokesman said it also planned to hold concerts for young children in January and work with primary and secondary school children.
"We are very aware of the concern and disappointment that has accompanied the recent difficult decisions that have been made regarding orchestral funding by the Guildford Borough Council," he said.
"Respecting and acknowledging the terrific achievements of the past, we will do all we can to bring new life to this vital area of culture in Guildford and we hope that we will quickly win the confidence and strong support of the many music-lovers in the area."
Jen Powell, lead councillor for tourism, said: "The council makes a significant contribution to the performing arts with over £641,000 in grants and £419,000 of service agreements each year.
"By working with an external partner we can secure the future of classical music for the borough. "