Surrey Heath council backs rail review plans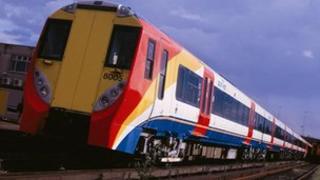 Calls to reinstate a railway line between Camberley and Woking and investigate ways to reduce journey times to London have been backed by a council in Surrey.
Surrey Heath Borough Council set out its views in response to Surrey County Council's (SCC) draft rail strategy.
Borough councillor Keith Bush said the review recognised Surrey Heath's rail services could be improved.
The rail strategy consultation runs until 28 June.
Mr Bush, cabinet member for planning, said the council backed a plan to reinstate a "long-term redundant rail track" between Camberley and Woking.
He said the borough council also supported a plan to explore options for reducing journey times between Camberley and London.
Surrey County Council appointed consultants to review the county's rail services earlier this year after it emerged that the 07:32 from Woking to London was one of the most overcrowded trains in England.
South West Trains, which runs services in the Camberley area, has said it welcomed feedback, but changes to the infrastructure needed to be strategically reviewed, commercially sound, and be decided jointly with the government.