Project to protect 'veteran trees' at Dawcombe Nature Reserve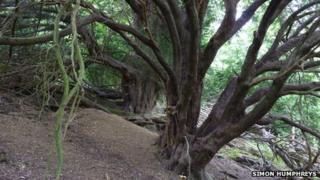 "Veteran trees" of up to 600 years of age are to be protected at a nature reserve in Surrey.
As well as being home to numerous old trees, Dawcombe Nature Reserve also hosts a variety of flora and fauna.
Many of the trees are on the decline or dying due to a lack of coppicing or pollarding, Surrey Wildlife Trust said.
The trust said the work would include retrenchment pruning, clearing surrounding saplings and managing other trees to create "future veterans".
The reserve, near Dorking, is a Site of Special Scientific Interest. Bats roost in the trees and fungi and invertebrates such as butterflies, spiders, centipedes and woodlice rely on deadwood and sap.
The project has secured £27,000 of funding from the SITA Trust.
Simon Humphreys, a volunteer warden at Surrey Wildlife Trust, said: "Some of the veteran trees were used by the local churches to mark out their parish boundaries, so they are historically important as well as of immense value to wildlife.
"It's fantastic that we can now make sure these trees survive to support wildlife and for future generations to enjoy."