Surrey Brooklands motor museum award to be unveiled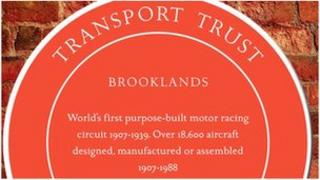 A motor and aviation museum in Surrey is to receive an award recognising it as a transport heritage site.
Prince Michael of Kent will unveil a Red Wheel plaque at Brooklands Museum in Weybridge next week.
The Red Wheel scheme, run by the Transport Trust, commemorates Britain's legacy in the development of transport.
Brooklands became the world's first purpose-built motor racing circuit in 1907, and later became one of Britain's most important aviation sites.
Between 1907 and 1988 more than 18,600 aircraft were designed, manufactured or assembled and flown out of Brooklands.
More of Concorde was designed and manufactured at Brooklands than at any other site, the museum said.
For its first 20 years, the racing circuit was the site of many land speed record attempts.
The world land speed record was broken three times, the last time in 1922 when Kenelm Lee Guinness exceeded 133mph.