Emily Davison: Suffragette death centenary tree 'dying'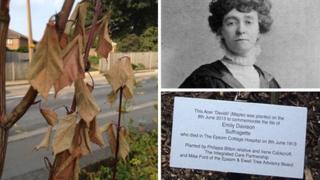 A tree planted to mark the 100th anniversary of the death of a suffragette Emily Davison is thought to be dying from a fungal disease.
Emily Davison became a martyr for the suffragette movement after being trampled by King George V's horse at the Epsom Derby on 4 June 1913.
She died four days later in Epsom Cottage Hospital.
A maple tree was planted in the grounds of the hospital in her memory on 8 June but may have to be replaced.
'Not neglected'
Mike Ford, chairman of the Epsom and Ewell Tree Advisory Board, said it did look as though the tree, with the Latin name Acer davidii, was dying.
"It's suffering from a wilt, Verticillium wilt, which maples sometimes get when they're moved from the nursery into the permanent planting area," he told BBC Surrey.
"It does look as if it's been neglected by lack of watering and I can assure the people listening in Surrey that that hasn't been the case - from day one it's had water.
"It's very upsetting. This is a real, real disappointment for me. We will monitor in October/November in collaboration with our tree officer and get a new one back if it has indeed died."
A plaque was also unveiled at the hospital by one of Emily Davison's relatives.
Emily Wilding Davison was the only suffragette killed campaigning for votes for women and was claimed as a martyr for the cause.
The votes-for-women campaigner was frequently arrested for acts that included causing public disturbances and burning postboxes. She served several jail terms.
Following a funeral service in London, her coffin was brought by train to Morpeth for burial in the family plot.
She died five years before voting rights were given to women over 30 and 15 years before women were granted equal voting rights with men.