Pilot killed in Redhill Aerodrome crash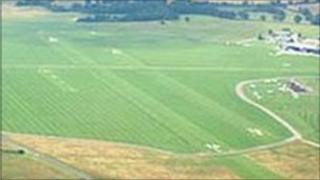 A man was killed when the light aircraft he was piloting crashed at Redhill Aerodrome in Surrey.
Emergency services were called at 12:30 BST to reports an aircraft had crashed at the end of the runway.
The aerodrome said the pilot had been circuit flying in a Rans S6 aircraft and crashed shortly after take-off.
Aerodrome manager Philip Wright said "There was no mayday call nor did the pilot report anything unusual to ATC (air traffic control)."
The pilot, who was the only person in the plane, was pronounced dead at the scene by paramedics.
Mr Wright said: "It had completed two circuits and was climbing away when it crashed within the boundary of the aerodrome."
He said the aircraft had been based at the aerodrome for several years and was operated by a small group of private pilots.
The Air Accidents Investigation Branch is investigating the crash.