French Alps murders: Al-Hilli killings remain unsolved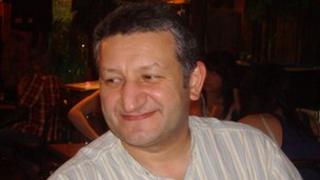 A murder case in which three members of a Surrey family and a cyclist were killed remains unsolved one year on.
Saad al-Hilli and his wife Iqbal, from Claygate, her mother Suhaila al-Allaf and French cyclist Sylvain Mollier were shot on 5 September 2012.
The family were on holiday by Lake Annecy in France when they were attacked.
Zaid al-Hilli, Saad's brother, was arrested in June. The 54-year-old from Chessington is on bail until October.
The four bodies were found on a remote forest road in Chevaline.
Mr and Mrs al-Hilli's daughters survived the shooting.
Four-year-old Zeena was discovered under her mother's body inside the family car, eight hours after the shooting.
Her seven-year-old sister Zainab was found with serious head injuries after being shot and beaten.
Officers from the UK have been working with their French counterparts on the investigation and two Surrey Police officers are travelling to France this week for the anniversary.
Det Supt Nick May said: "The tragic events of a year ago left four people dead in appalling circumstances.
"We remain committed to finding answers to what happened that day on behalf of their families, particularly for the two young girls who lost their parents.
"This remains a complex inquiry and we continue to have a team of officers dedicated to supporting the investigation."
About 100 British and French police officers have been investigating the deaths.
The family's home in Claygate was searched by French investigators after the shootings.
In May, Surrey Police issued an appeal to help trace a vehicle, thought to be a UK-registered right-hand-drive 4x4, which was seen near the crime scene.
The car was being driven on the Combre d'Ire Road in Chevaline, near Annecy, about 20 minutes before the shooting, the force said.
Police also said at the time that the Surrey and Sussex Major Crime Team had been working closely with the French authorities on "a number of lines of inquiry" in the UK.