Surrey council's decision making transparency questioned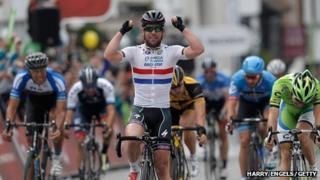 A Surrey councillor's pledge for four more years of a prestigious sporting event in the county has triggered a backlash over the transparency of council decision making.
Opinions are divided over the economic and environmental benefits to Surrey.
Tory Councillor Helyn Clack told a public forum the county "had an agreement" to host a London-Surrey cycle event for five years in total.
But the leader of the Lib Dems says she can find no record of such a decision.
The RideLondon 100-mile race was one of several cycling events to have been staged in Surrey to cash in on the legacy of the London 2012 Olympics.
More than 65,000 people took part in the inaugural event in August, and supporters say such events have helped raise the profile of the county and encourage people to cycle more and drive less.
But many people say they have been trapped by road closures or lost potential business as a result of the major disruption that road events inevitably cause.
Public involvement
Now Lib Dem opposition leader Hazel Watson has questioned the transparency of council decisions on major cycling events, claiming she can find no record of the council agreeing to stage a total of five RideLondon 100 events.
Mrs Watson said she had been referred to a decision made by the council's cabinet in private in 2011, but she said it makes no reference to five years.
She said: "If Surrey County Council is to enter into a five-year agreement... there ought to have been a formal decision about it, and I haven't been able to find out where and when that decision was made."
The Lib Dem leader acknowledged there were potential benefits to the county from staging such races, but she said there should be a review following this summer's event to determine whether it was a good idea to continue them - and to enable the public to take part in the decision making.
The county council declined to comment on whether it had agreed to five years of RideLondon 100 but issued a comment saying: "The decision to hold RideLondon-Surrey was made legally. The route was consulted on and advance notice of both the event and road closures was given.
"Plans have to be agreed each year before the event takes place."