Mole Valley burial review as Dorking Cemetery expands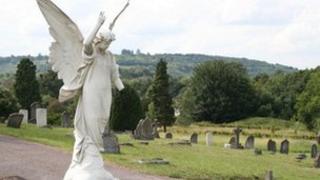 Work to increase burial plots at a cemetery will extend its use for up to seven years while remaining space is reviewed, Mole Valley council has said.
Expansion work will provide space for about 150 graves at Dorking Cemetery.
The council said burial plot sizes were an issue across the country and Mole Valley was no exception.
Councillor James Friend said the work would ensure residents could access services and give the Surrey council time to review future provision.
Sycamore trees and their roots have been removed, and from Monday the ground will be levelled and a small bund created along the boundary with the railway line, the council said.
The work is expected to take about three weeks.
The council said the opening of the cemetery and funeral services would not be affected and disturbance would be kept to a minimum.