Thorpe Park to discuss Asylum maze rename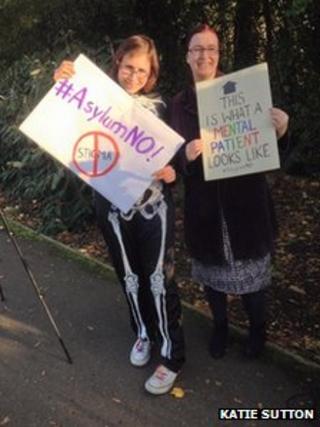 A Surrey theme park is to discuss the name of an annual Halloween attraction called The Asylum following claims it stigmatises people with mental illness.
Nearly 6,000 people have signed the petition, calling for Thorpe Park's maze to be renamed.
Surrey and Borders Partnership NHS Foundation Trust also sent a letter to the park urging it change the name.
Thorpe Park said the maze was now shut, but it would take all views into account when planning for 2014.
The Asylum maze has been part of Thorpe Park's Fright Nights, which are held in October and November, for eight years.
Thorpe Park has continually maintained the attraction is not meant to be a realistic portrayal of a mental health institution.
Dressed as zombie
In a statement, the theme park near Chertsey, said: "The maze is now shut.
"We have listened to the debate on both sides and there were a number of views supporting the name, and we will take all those points on board for the planning sessions for the 2014 event."
A spokeswoman for the attraction said planning meetings were likely to start next year.
The petition was started by Katie Sutton, who is a mental health nursing student at the University of Salford, after she became aware of the maze through Twitter.
On 30 October she delivered a copy of the petition to the theme park while she was dressed as a zombie.
Director of quality at Surrey and Borders Partnership NHS Foundation Trust, Jo Young, sent a letter to Thorpe Park in October, calling on its "humanity and kindness" in asking it to rename the attraction.