Surrey Lib Dems criticise private RideLondon cabinet meeting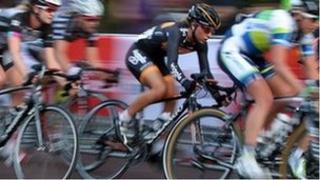 The Liberal Democrats have criticised the private decision by a Tory-run cabinet to host the RideLondon cycling event in Surrey.
The confidential cabinet document from December 2011, which details the plans, was released by the council earlier.
The Lib Dems questioned whether all the correct procedures were followed by Surrey County Council's cabinet.
Council leader David Hodge said leaders had to make decisions for the long-term benefit of the community.
Some 16,500 cyclists took part in the 100-mile race through London and Surrey in August, which raised more than £7m for charity.
'Spill the beans'
At a council meeting earlier, the county council confirmed that it had agreed to host the event in December 2011, almost two years before it took place and seven months before the 2012 Olympic Games.
Mr Hodge later made an agreement with organisers that the event should take place for five years.
Residents living on the route of the race, through Weybridge, Byfleet, Leatherhead and Esher, complained they were "trapped" by road closures.
Following calls by Hazel Watson, leader of the Liberal Democrat group, the authority has now released its full confidential paper.
Urging the cabinet to publish the document, Ms Watson said: "Surrey residents and businesses are asking me these questions and I am pressing the Conservative administration to stop being secretive and spill the beans."
Mr Hodge said: "I think it's really important that leaders at times step up to the mark and make decisions which are for the long-term benefit of the Surrey community.
"That's exactly why we were elected leaders.
"It was the first time the ride was run and obviously there are always lessons to be learned."