Surrey council call for road cycling events legislation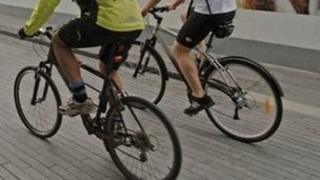 All road cycling events should be registered under law, council leaders have said.
Surrey County Council said cycling had brought great opportunities to the county but it recognised the need to limit disruption.
It said it planned to ask the government to take action if the Surrey cabinet approved new cycling plans.
The Department for Transport (DfT) said cycle racing was already regulated but changes were being considered.
The proposals being considered by Surrey include calling for a new law to register events as well as updating residents through a cycling hotline and events calendar.
'Hundreds of events'
Councillor Helyn Clack, cabinet member for community services, said: "Cycling has brought great opportunities to Surrey, including tourism and healthier lifestyles, but we also recognise we need to limit disruption to residents and businesses.
"That's why we'll ask the government to take action on hundreds of unregistered events in the county every year if our cabinet approves the strategy later this month."
A DfT spokesman said: "Cycle racing on the roads is regulated under the Road Traffic Act 1988.
"The government is currently considering responses to a public consultation on amendments proposed by the Association of Chief Police Officers and British Cycling to help police and organisers better apply the regulations."
The council has said major cycling events such as the Tour of Britain already needed permission and there was a "robust" system in place if road closures were required.
But it said it had concerns about a rise in events held by cycling clubs and smaller groups.