Wildlife Aid Foundation's fury over Surrey cycling deal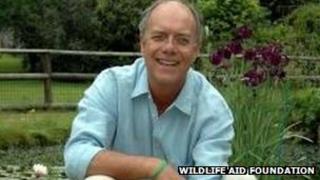 An agreement made by Surrey County Council's leader to host the RideLondon cycling event has been criticised by the founder of a local charity.
Simon Cowell, chief executive of the Wildlife Aid Foundation (WAF), said the deal made by David Hodge was "reckless and undemocratic".
He said the charity had been blockaded into its base in Randalls Road by cycle events passing through Leatherhead.
Surrey County Council said its cabinet would discuss the event on Tuesday.
About 16,500 cyclists took part in the 100-mile RideLondon race through London and Surrey in August, which raised more than £7m for charity.
The Liberal Democrats on the council have previously questioned whether the correct procedures were followed by the cabinet in agreeing to host the event.
A confidential cabinet document released last month showed the agreement was made in December 2011. Mr Hodge later agreed with organisers that it should take place every year until 2017.
Emergency callouts
Mr Cowell said the charity, which runs an animal hospital and emergency wildlife rescue service, had been unable to leave its base for at least two days a year for the last three years because of cycle events.
"As a result of these cycling-related road closures, WAF has often been unable to respond to emergency callouts on the days of these events," he said.
"I was appalled to hear that Mr Hodge had made a deal behind closed doors and had committed Surrey to hosting these extremely disruptive cycle races every year for five years.
"I am spitting blood about this. It is reckless and undemocratic."
Alternative arrangements with the council to overcome the problems of road closures had been unsatisfactory, he added.
The RideLondon 100-mile race is one of several cycling events staged in Surrey to build on the legacy of the London 2012 Olympics.
Mr Hodge has previously said he took the decision to stage it for five years for the long-term benefit of the community.
The council's cabinet will receive a petition on Tuesday signed by more than 3,000 people protesting at the effect of cycle races on Surrey residents.
But it is expected to give a formal endorsement to the agreement to stage RideLondon.
The council said in a statement it met WAF before the cycling events took place to talk through the local impact, and developed an access plan to ensure its staff had access to the veterinary hospital.