Brooklands Museum reopens within days after Surrey floods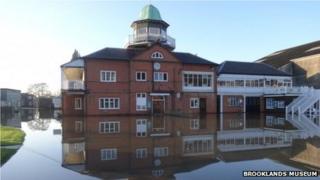 A motoring museum hit by floods has managed to clear up and reopen within days.
Brooklands Museum in Weybridge saw floods of up to 18 inches (45cm) in its clubhouse and motoring sheds last week.
Director Allan Winn said the River Wey rose on Christmas Day and flooded the museum on Boxing Day.
He said insurers "threw resources" at the museum to help it open on Monday, in time for a classic car event on Wednesday.
Staff and volunteers had worked through Christmas Day to take precautions, placing cars on axle stands and moving some exhibits to a hangar.
'No salt danger'
Mr Winn said he was pleased the clean up operation was completed in time for the classic car event.
"Despite the weather, we're expecting all those hardy souls with their classic cars to get them out and do what classic car owners do on New Year's Day - get them out and go for a run," he said.
"Of course they're very lucky this year, we've had so much rain and so forth there will be very little salt on the roads, and therefore the classic cars aren't in danger of being covered in salt."
Mr Winn said the museum worked with insurers to form a proper disaster recovery plan after floods in 2000.
At that time, neighbouring Mercedes Benz World also installed a flood defence scheme.
Mr Winn said this had "absorbed a substantial chunk of water at the critical time as the river was hitting its peak" last week.