University of Surrey physics applications 'rise by 82% in a year'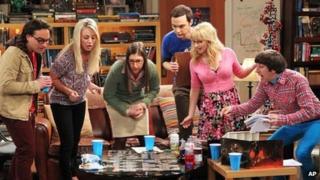 Applications to study physics at the University of Surrey have almost doubled in the past year.
Prof Jim Al-Khalili said the department had its 1,000th applicant this week, compared with 525 applications at the same time in 2013.
He attributed the increase to the department's rise among the league tables into the top 10 in the country.
And he also said the subject may have become more popular because of sitcom the Big Bang Theory and Prof Brian Cox.
The university said its total undergraduate applications were up by 35% compared to last year.
Prof Al-Khalil also said research developments such as the 5G research centre, which aims to spearhead the search for a successor to fourth generation (4G) mobile communication technology, were also attracting students.
The department is part of the South East Physics Network (SEPnet), made up of physics departments from nine universities including Kent, Sussex and Royal Holloway .
"They [other SEPnet universities] have not seen the rise in applications that we have," Prof Al-Khalili said.
"Sussex saw a rise a couple of years ago- we were a bit behind them in seeing this rise.
"I'd be very surprised if any university's seen the rise we have seen of over 80%."
He said the rising popularity of physics could be down to the popularity of TV presenter and Manchester University academic Prof Brian Cox, and television series the Big Bang Theory.
It could also be due to people believing studying the subject offers a better chance of a career "if they're going to get into that much debt", he said.