Zane Gbangbola's dad Kye 'had battled Chertsey floods'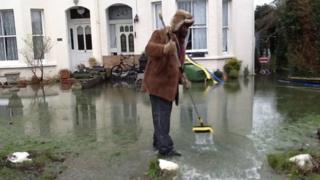 The father of a boy who died in a flood-hit town in Surrey had been pumping water from his house since January, it has emerged.
Kye Gbangbola is in a serious condition in hospital after being taken ill in Chertsey.
His seven-year-old son, Zane, was taken to hospital in a serious condition but later died.
Surrey Police have said the cause of his death is unknown.
Officers have refused to be drawn on suggestions that carbon monoxide could have been to blame for the incident.
Mr Gbangbola spoke to BBC Surrey in January after the River Thames burst its banks in Chertsey.
He criticised the lack of planning to prevent floods in the area.
He also said residents in properties along Thameside, where he lived, had all been pumping out water after their boundaries were breached.
People in the area have described seeing pipes coming from the family's house but it is not known whether a water pump was being used.
Anoop Hothi, who taught Zane martial arts, paid tribute to the boy who he had joined his academy aged five.
He said: "Little Zane was an absolute joy to teach, and it's children like him who make teaching so much more rewarding."
Mr Hothi, who is also a neighbour to the family, said: "He was a lovely boy, and he came from good, caring parents. Zane had his whole life ahead of him."
Mr Gbangbola, in his 40s, and Zane's mother, Nicole Lawler, who is in her 30s, were both taken to St Peter's Hospital on Saturday.
Their conditions are not thought to be life-threatening.
Ch Supt Dave Miller said there had been no further casualties reported.
Fifteen people, including police officers, were taken to hospital on Saturday. Of those, one showed signs of illness and all were later discharged.
A government spokesman said although the cause of the illness had not been found yet, there did not appear to be a wider public health risk.
Surrey Police said Environment Agency staff had analysed water samples from the basement at the house and found it did not contain anything that could have caused Zane's death.
Ch Supt Miller said the cause of death could take several days to determine.
A police guard remained at the scene on Sunday and road closures remained in place, preventing access to Thameside.