Army called in as Surrey braced for further flooding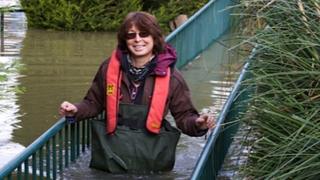 Eight of the 14 severe flood warnings along the River Thames are for towns, villages and homes in Surrey.
Staines, Laleham, Chertsey, Shepperton and Hamm Court are among the places at risk, with 2,500 properties under threat of being flooded.
The level of warning placed by the Environment Agency means there is a potential risk to life, with the river water level predicted to rise for at least the next 24 hours.
Surrey Police said military assistance was being provided and 30 soldiers from the Royal Gurkha Army Rifles in Folkestone, Kent, arrived in Chertsey on Monday.
Surrey Fire and Rescue Service said it had already rescued around 150 people from flooded homes in the county.
Dedicated rest centres have been set up in Elmbridge, Runnymede, and Spelthorne boroughs.
'Very concerned'
Deborah Dunn-Walters finally had to leave her house in Chertsey on Sunday because the water had reached the fuse box and her electricity supply was affected.
She said: "It looks like it is is very slowly rising and we have no indications from anywhere that that is going to stop.
"There is a significant amount of rain expected and I have no hope that it is going to go away anytime soon.
"If the water levels start going down near Oxford and Abingdon then there is hope it will also start to go down in Chertsey."
She said a team of safety co-ordinators had been set up with other residents in her road to check on residents and properties and liaise with the authorities.
Sue Chambers is "totally marooned" in her house and has been for three days.
Her house is one of a cluster of 14 properties, which have become like an island, with some of the homes now flooded.
Water has come into Mrs Chambers' garage, utility area and her carpenter husband's workshop.
They have no heating or hot water because the boiler has been affected.
She said: "It feels like we are living in the middle of the Thames, not by the side of it, but in it.
"At the moment we are hopeful it will not flood the house, but they are predicting that it could be higher than the 1947 flood in Sunbury village.
'Really dangerous'
"They have marks on the walls in the village where the 1947 flood was.
"It is going to be catastrophic down here if it goes higher than that. It keeps coming up and up."
A neighbour had to go out in a canoe and get supplies for residents because the water was so deep.
Mrs Chambers added: "The road water is flowing like a river because it is parallel to the river. It is really dangerous, you cannot walk in it."
She said her heating oil tank had fallen over and had been spilling fuel into the flood water until a fire crew from Surrey Fire and Rescue Service came and put it upright.
Mrs Chambers has Addison's disease and mobility issues and she said she was concerned if she needed medical treatment it would be difficult for emergency services to reach her.
'Very frustrating'
On Monday, the water had not yet reached the house belonging to Carl in Weybridge, but where the River Thames was once 20ft (6m) from his house, now it is 2ft (0.6m) away.
Carl, who did not want to give his surname, said he was not getting a clear picture from the Environment Agency about what was going on.
He said: "Maybe it is because they do not have the information themselves.
"We do not know how high the river will get - if they said it will go up 12in (30cm) then we would know."
He said he had to rescue an elderly neighbour from her house by boat after the flood warning was raised to severe, meaning it posed a risk to life.
He added that most of the women and children had left the houses which had either been flooded or were in danger of being flooded.