UK floods: Families rescued as Thames floods Surrey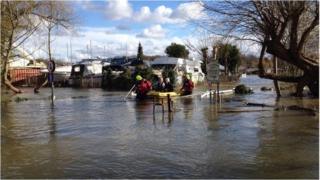 About 1,000 homes have flooded near the River Thames in Surrey and about 600 properties have been evacuated, Surrey Police said.
More than 100 houses were cleared overnight into Wednesday.
Fourteen severe flood warnings remain in place along the Thames in Surrey and Berkshire, with river levels expected to remain high for the next few days.
Surrey fire service said it had rescued 250 people on Wednesday and carried out more than 850 rescues since Sunday.
Ch Supt Matt Twist, from Surrey Police, said officers had visited about 3,000 homes in the 470 most high-risk roads in the county.
He said "massive resources" had been brought in to assist the police, with about 500 staff in total deployed by the police, fire service and military in Surrey.
Spelthorne Borough Council said a sandbag wall would be put in place over night to protect residents in the Penton Hook area, between Staines and Chertsey.
The Environment Agency said it was still very concerned about levels on the Thames, but many areas have reached their highest levels and are starting to fall very slowly.
Peak levels were not expected to be significantly higher than recently but there would be a "sustained, high level of flooding" on the Thames in the next few days, he added.
Drinking water supplies
Brigadier Chris Clayton said the soldiers were there for "the long term" - at least 15 days to start with - with some working 16-hour shifts.
He said troops were working to protect critical infrastructure such as water treatment plants to ensure they continued functioning and were able to supply clean water for everyone.
The army had vehicles that could operate in flooded roads and carry out tasks such as delivering chemicals to water treatment plants and they also had the capacity to carry large numbers of sandbags, he added.
He said boat units had helped firefighters rescue people from waterside properties, and soldiers had also helped people to protect their homes.
'Just words'
But Ian Jeffrey who lives in Shepperton said there was a "complete disconnect between what is being said and what is being done".
He added: "The basement of my house is flooded, I have no power and no heating. Meanwhile, it is continuing to pour down with rain, with water rising.
"I have just spent all morning on the phone to Surrey County Council and the Environment Agency seeking help.
"I rang the council who say the Environment Agency should help me, I phone the Environment Agency and they say the council should help me.
"David Cameron says if you need help all you have to do is ask - but it's not true.
"The agencies are showing they are an absolute waste of time. There is no co-ordination or real help, just words from politicians."
A spokeswoman for the county council said without knowing what his exact query was it would be difficult to say whether the operator gave him the correct advice.
She said there were a lot of agencies involved, each with their own area of responsibility, and generally the response was that things had been going smoothly.
Some residents raised concerns about sandbag supplies.
Egham resident Grahame Morgan said: "I'm trying to find sandbags but nobody can tell me where to get some.
"I tried calling the council out of hours but just got an answer-phone. They seem to be fire-fighting, resources stretched."
And he added: "The situation's very chaotic and I'm very worried."
'Limitless sandbag demand'
Figures obtained by BBC Surrey showed about 17,000 sandbags had been delivered to the Spelthorne and Runnymede areas of Surrey.
Surrey currently has 5,000 filled bags available and 16,000 empty bags, with 100 tonnes of sand in stock, and 500 tonnes of sand on order.
The Welsh Fusiliers have been filling bags at a depot near Guildford.
Elmbridge council's chief executive Robert Moran said the demand for sandbags was limitless because the Thames was "a mighty river", but said thousands were being delivered daily by all the affected councils in Surrey, with no shortage of either sand or bags.
"They are being deployed but the problem is with this sort of flooding it's so extensive you can't build sandbag walls that are effective," he said.
"Plus we now have a major problem of groundwater flooding where you don't necessarily have to be near a river to be flooded because the groundwater and the water table is so high. Households that aren't seeing seepage from the river are actually seeing the water coming up from below."
He urged people not to enter flood water, but call 999 or contact a council emergency control centre if they needed help or needed to leave their homes.