Three jailed over Ryan Harrison's death at Guildford station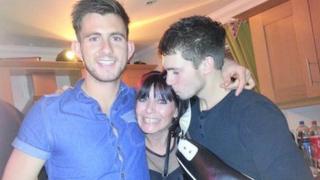 Three men have been jailed over the death of a man who was crushed by a train following a drunken brawl.
Ryan Harrison, 22, fell between the train and the platform at Guildford station in Surrey when he was punched by Joshua Elphick on 30 March.
On Friday, Elphick, 20, of Abbots Wood, Guildford, was sentenced to five years in a youth offenders' institution after admitting manslaughter in December.
Jack Hardy and Harry Miller, both 20, were found guilty of affray.
The two, who are both from Guildford, were each sentenced to 12 months detention following the trial at Guildford Crown Court.
Adam Kulikowski, 20, from Cranleigh, was found not guilty of affray.
An argument broke out between two groups of men at Guildford station on 30 March last year, a Saturday night.
Mr Harrison's friend Joel Parish was hit by Elphick.
Mr Harrison and Mr Parish were pulled onto the platform, where Elphick punched Mr Harrison, who fell between the train and the platform.
Seconds later, the train started moving and Mr Harrison died at the scene.
Sentencing the three, Judge Christopher Critchlow said any sober person would have seen that fighting at a railway station could have led to someone falling on the tracks.
Addressing the defendants, he added: "You could have walked away, you should have walked away."
Tony Harrison, Ryan's father, said: "Our whole family's completely destroyed.
"What happened that night on Guildford station will always stay with us.
"We'll never forget and we're trying to rebuild our lives but it's hard. It's really, really hard."
Det Ch Insp Iain Miller, from British Transport Police, said: "The terrible tragedy in this case has been caused solely by alcohol-fuelled violence and anti-social behaviour.
"The type of behaviour that's conducted throughout the country in many cities and towns.
"The unfortunate thing with this is nobody realised the dangers of behaving in that manner on a railway station."