UK storms: Chertsey 'sausage' flood barrier deflated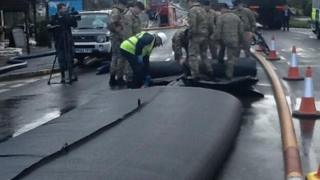 An inflatable tube filled with water that has been used as a flood barrier in a Surrey town is being dismantled after flood warnings were downgraded.
The "Chertsey sausage" aquadam was temporarily installed in the town last week to protect 200 homes on one side of Bridge Road from the River Thames.
About 15,000 litres of water a minute was being pumped away from properties.
The 600m-long (0.3 mile) tube is slowly being deflated by soldiers from the 19th Regiment Royal Artillery.
Ground water risk
The Environment Agency said river levels on the Thames were gradually falling, but warned they were still very high and property could be flooded for some time.
It said ground water flooding also remained a concern.
More than 1,000 homes in the county have been flooded while a further 2,000 to 2,500 have been affected, with 1,124 people rescued from flooded homes near the Thames, police said.
About 60 roads have been affected by flooding, although some road closures are now being lifted.