Farnham shooting: Police returned seized guns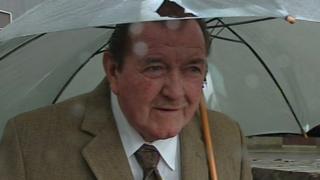 Guns seized from a house near Farnham where two women were later shot dead had been returned to their owner, Surrey Police has revealed.
Christine Lee, 66, and Lucy Lee, 40, who are thought to be mother and daughter, were killed at Keepers Cottage Stud in Waverley Lane.
Christine's body was found inside, while Lucy was found dead outside.
An 82-year-old dog breeder, named locally as John Lowe, was arrested on Sunday and is in custody.
Post-mortem examinations gave the cause of death as gunshot wounds.
Police seized the guns and a shotgun licence from the address last May and returned them, along with the permit, in July.
Ch Insp Mark Preston, from Surrey Police, said one long-barrelled weapon was found at the house after the shootings.
It is not known if this gun was one of those which had been returned.
Four dogs killed
In a statement, the force said: "We are in the process of establishing if one of these licensed guns was the firearm recovered on Sunday.
"Surrey Police is reviewing the return of the licence to ensure compliance with Home Office guidelines and has referred this matter to the Independent Police Complaints Commission."
Ch Insp Preston confirmed police had dealings with the arrested man in the past.
He added that he did not believe there were any active investigations in relation to the suspect at the time of the shootings.
Four dogs were also killed at the property.
Stacy Banner, 38, who The Sun reported is the sister and daughter of the dead women and Mr Lowe's stepdaughter, said: "I have lost everyone - my mum, sister and dad."
"This is a nightmare. I just can't get my head around what's happened. My family's gone and I'm absolutely devastated."
'Animals removed'
Surrey Police said on Monday that the two victims were not related to the arrested man, but both of them knew him, though neither lived at the property.
A spokeswoman said they were trying to clarify the newspaper report with regard to the interview with Ms Banner.
The RSPCA has confirmed it and other agencies had made a number of visits to the property over the past few years.
A spokesman for the charity said its officers had already removed one cat and 10 dogs, including a number of puppies from the property.
He said these included Chihuahuas, Pomeranians, shih tzus and an Old English sheepdog-type.
"Today, we will be removing a small number of exotic birds from the property," he added.
"At present our staff are caring for a large number of chickens at the property and we have brought in our specialist equine workers to ensure the health and welfare of four horses.
"We are currently working with other agencies to make arrangements for their long-term care."
On Monday evening, magistrates gave police a further 24 hours to continue questioning the suspect.
'Poor condition'
Ch Insp Preston said no-one else was at the secluded property at the time of the shooting, which is surrounded by dense woodland and has a quarter-of-a-mile driveway lined with signs indicating CCTV cameras are in operation.
He said the arrested man was uninjured and remained calm when officers went to the house.
The property, which includes kennels and a stable, are owned by Mr Lowe.
In 2004, Mr Lowe was investigated by the BBC's Inside Out programme, which claimed he was breeding scores of dogs and selling puppies in poor condition.