Queen sees robot displays at Reed's School, Cobham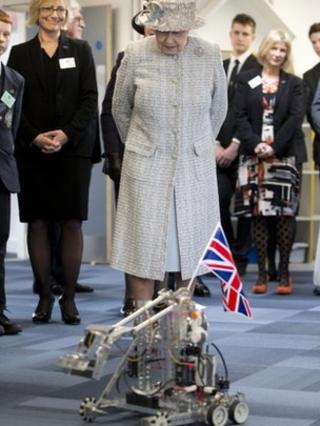 The Queen has been shown robot displays during a visit to a Surrey school's technology and engineering site.
She is patron of Reed's School in Cobham, which was celebrating its 200th anniversary.
Crowds of pupils waving flags greeted the Queen and the Duke of Edinburgh as they were shown around FutureTech, the school's science, technology and engineering site.
The royal couple were also shown award-winning self-propelling vehicles.
Ewan Atkinson, 14, who was part of the school's team that won the McLaren Manufacturing Challenge last year, said: "The Queen said she was fascinated and you could see she was. I knew she was going to be interested."
The school won the McLaren challenge in 2012 as well as in 2013.
Sam Hepburn, 16, showed off the school's robot, which has been built by pupils over the past six months.
He said it put "a big smile on the Queen's face".
During the royal visit, the Queen unveiled a new stained glass window in the school's chapel.
The Duke unveiled a memorial stone in the chapel for Andrew Reed, the founder of the London Orphan Asylum, which later became Reed's School.
Reed's is an independent day and boarding school for boys aged 11 to 18, but the sixth form is co-educational.
Alumni include former tennis star Tim Henman.