Newdigate restaurant customers witness armed robbery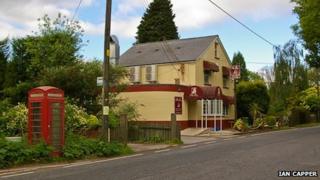 An armed man has robbed a restaurant in Surrey while people were inside eating.
No-one was injured in the robbery at the Ali Raj restaurant in Parkgate Road, Newdigate, on Tuesday night.
The suspect burst into the premises brandishing what was believed to be a firearm before demanding money.
Police believe he left the scene in a red Ford Fiesta and witnesses who may have seen it in the area, possibly being driven erratically, have been asked to come forward.
The robber, who is thought to have been wearing a black motorcycle helmet and dark clothing, fled with several hundred pounds in cash, officers said.
Acting restaurant manager Mohammad Isla said two customers were in the restaurant when a man entered the kitchen at about 21:30 BST armed with a gun and demanded money.
"He told us we had to give him the till - he counted one to 10 and said if we don't [him] give cash he'll shoot us," he said.
The robber took £600 from the till and left, Mr Isla said.
"He was wearing a helmet - we didn't see his face, we didn't see his hands, nothing."