Surrey artists show work with British modern art greats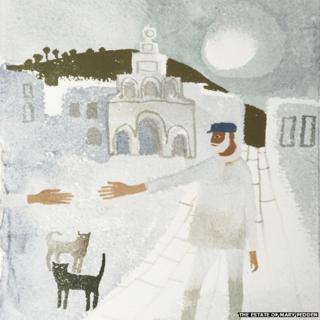 A new exhibition at a Surrey gallery will see paintings by British modern artists including William Gear, Mary Fedden and John Tunnard displayed alongside artwork by local people with learning difficulties.
The Lightbox gallery in Woking approached a number of community groups and invited would-be artists to get involved.
The artists worked with print-maker Tozzy Bridger and installation artists Jono Retallick and Mary Branson to produce pieces for The Ingram Collection: Skyscapes exhibition.
Works from The Ingram Collection of Modern British Art were used as inspiration for prints and sculptures during the workshops.
They were made available by Chris Ingram, the collection's owner, and will also feature in the exhibition.
Marilyn Scott, director of The Lightbox, said: "His generosity and the open and accessible way he allows us to use the collection is incredibly enlightened and an example to all museums in showing how art can be used to inspire creativity in those people who might not usually have access to precious collections."
The groups that took part were LinkAble, Cranstock Day Centre, Activity Extra, Geesemere, Lockwood Day Centre and The Harbour Day Centre.
The exhibition is presented in association with the Paul Hamlyn Foundation as part of the "our museum" initiative, which supports museums and galleries to develop community skills. It will run from from 10 May to 22 June.