Judge criticises Surrey County Council 'faults' over disabled boy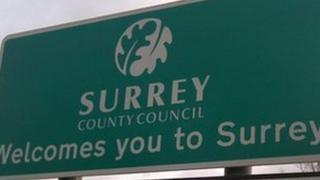 A High Court judge has criticised Surrey County Council for "faults" over the way it handled the welfare of a severely disabled two-year-old boy.
Mrs Justice Theis made the claim during a hearing at the Family Division of the High Court.
She said delays in issuing care proceedings and a referral to adult services were unacceptable.
The judge said the council had promised that "systemic failures and missed opportunities" would not be repeated.
In her judgement, Mrs Justice Theis said the boy, who cannot be identified for legal reasons, had a range of medical problems and needed significant levels of care.
'Neglect'
His parents, both in their early 20s, also have health problems.
The judge said social workers became involved two years ago and had concerns about "neglect".
Kim Horrox, who qualified in 2011, became the allocated social worker in June 2012. The case was her first that resulted in care proceedings, the judge said.
Mrs Justice Theis said: "The care proceedings were issued on 25 March 2013, 10 months after [the boy] had been placed with foster carers and over four-and-a-half months after the local authority issued letters of intent to the parents informing them of their intention to issue proceedings.
"Ms Horrox frankly accepted in evidence this delay was unacceptable, she acknowledged it was her first case where care proceedings had been issued and had been a 'steep learning curve for her'."
'Other delays'
The judge said Ms Horrox agreed that it was not fair that the parents were "at the bottom of this learning curve", and had apologised.
She said she had been told by Ms Horrox that lessons had been learned.
"I should make it clear whilst Ms Horrox has been the person giving evidence and been at the front line, I am satisfied on the information I have seen that the faults appear to be primarily systemic faults within the structure of the local authority," Mrs Justice Theis added.
"She accepted there were delays in the disability assessments, delays in completing the relevant documentation for care proceedings.
"Those and other delays should have been picked up by those with responsibility for supervising her much earlier."
The judge said she had reached the conclusion that the court should agree to the local authority's request to withdraw the care proceedings, enabling the foster carers and birth family to come to an agreement.
A spokesman from Surrey County Council said: "Our main concern, as always, was for the welfare of this very vulnerable little boy, but we accept we should have done more in this case to work in the best interests of the family."