Hundred evacuated in Burgess Hill car blaze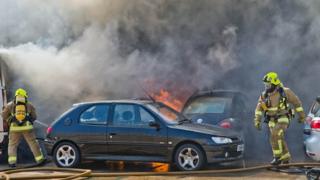 About 100 people were evacuated amid fears that a blaze at an industrial estate in West Sussex could spread.
Firefighters found six cars on fire in Consort Way, Burgess Hill at about 14:40 BST.
Crews worked to stop the blaze from spreading to an adjacent unit and six other cars.
A West Sussex Fire And Rescue Service spokesman said nobody was injured and that the fire was accidental.
Noxious fumes caused by the flames have now dissipated, he added.