'Large numbers' of pet birds stolen in Kent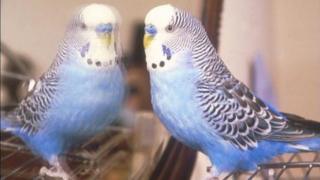 "Large numbers" of budgerigars, canaries and valuable finches have been stolen in Kent.
More than 80 birds have been taken in six reported thefts from gardens in areas including Sevenoaks and Tunbridge Wells since January.
Officers believe thieves are targeting mainly breeders to satisfy demand from buyers in other countries.
A few weeks before one theft, a boy, thought to be about 12, asked an owner if any birds were for sale.
Some 30 canaries were later stolen from the owner's aviary in Brenchley Road, Brenchley between 10 and 11 April.
Ducks missing
Thirty birds, including goldfinches and bullfinches, were stolen between 18 and 19 March from two separate properties in Hillingdon Rise, Sevenoaks.
A number of ducks were also taken from a pen in Goudhurst Road, Tonbridge and 20 canaries were removed from cages in a garden shed in Aylesford.
Insp Robert Slade, of Kent Police, said the force believed criminals were targeting the breeders of exhibition budgerigars, canaries and finches.
"I would urge anyone involved in bird keeping to review what security measures they have, to help guard against thieves," he said.
"People need to ask themselves how these persons have identified them as bird keepers, how they got their names and addresses."
He asked owners to be vigilant if they are approached by anyone trying to sell birds and urged them to secure their aviaries and possibly invest in sensor lighting or CCTV.