Surrey flood victims to question relief effort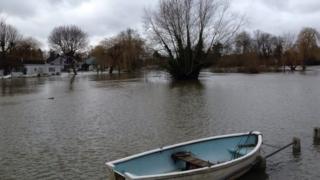 Flood-hit Surrey residents have been invited to question police, fire and army officers who led the response after storms this winter.
Spelthorne council said a meeting had been set up because people still had questions about the relief effort.
The borough borders the Thames, which burst its banks this year, and nearly a third of it is floodplain or reservoir.
The meeting is being held on 5 June, but people have to book a place and send questions in advance.
Other organisations that will be answering questions at the meeting include the Environment Agency, National Flood Forum, NHS England, Public Health England, Age UK, Voluntary Action in Spelthorne, Citizens Advice Bureau, and Surrey and Spelthorne councils.
In February, the River Thames burst its banks and went on to reach its highest level in 60 years, leaving about a thousand homes in Surrey flooded.