Egham Town Team to 'revitalise' centre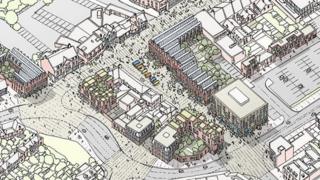 A new group has been set up with the aim of revitalising the centre of a town in Surrey.
The Egham Town Team wants to encourage people to shop locally and "strengthen community pride".
It also wants to try and ensure the town "does not miss out" on the celebrations for the 800th anniversary of the sealing of the Magna Carta.
Magna Carta, meaning Great Charter, was sealed by King John at nearby Runnymede in 1215.
It is seen as the cornerstone of Britain's constitution and events are being organised across the world to mark the anniversary.
'Community pride'
Egham is to be branded "the gateway to Magna Carta country".
A team spokesman said local students will be invited to enter a competition to design Egham Magna Carta signs and a logo for the team.
He said the team aimed to "strengthen community pride" by building on the town's heritage, location and education.
The Egham Town Team includes representatives from Runnymede Borough Council, the chamber of commerce, Royal Holloway University of London and Strode's College.