Joshua Ellis sentenced to life for nearly beheading stepfather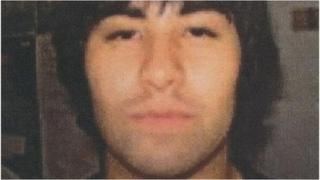 A man who nearly beheaded his stepfather after stabbing him 60 times has been sentenced to life in prison.
Joshua Ellis, 23, was found guilty of Neil Tulley's murder following a trial at Guildford Crown Court.
Ellis, along with his 14-year-old brother, Jerome, attacked Mr Tulley as he lay on the sofa at the family home in Cedar Way, Guildford, in August.
Jerome was found guilty of manslaughter and at a separate hearing was detained for six years.
Ellis was told he would serve a minimum of 14 years in prison for the murder.
'Tragic case'
The court was told that Mr Tulley, 54, had threatened to kill Ellis and swung at him with an axe a year earlier.
He was charged with making threats to kill but was cleared by a jury.
Mr Tulley later returned to the family home but by August his relationship with Ellis' mother, Marie, had deteriorated to the point where he was sleeping on the sofa.
Det Ch Insp Mark Preston said: "The sentence today reflects the severity of the crime and it is never an easy decision for the judge or jury to make with such emotive events to be considered.
"This was a tragic case in which a man was fatally injured and two families have been completely devastated as a result. Everybody involved in this case is a victim of circumstance."