Sayers Croft children join fight to stop housing development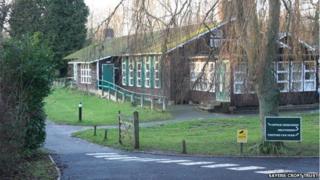 More than 200 children have expressed their concerns about the destruction of wildlife habitats in a part of Surrey if a housing development goes ahead.
Thakeham Homes wants to build 27 executive properties on a site in Cranleigh Road, Ewhurst, adjacent to the 56-acre Sayers Croft Field Centre.
Thousands of schoolchildren stay at the centre every year to experience life and nature in the countryside.
The head of Sayers Croft fears the development could lead to its closure.
David Quoroll said he believed it could be the biggest threat the centre has seen in its 74-year history.
About 40 local jobs would be lost if it closed, along with heritage dating back to World War Two, he said.
"It will change the experience for the kids as there will be a housing estate, with lighting and noise, right next to the centre," he said.
"As Sayers Croft is a rural retreat, if schools do not believe their experience at the centre reflects this, then they won't come back.
"Just a 10% drop in income could lead to the centre closing."
The children have submitted objections to Waverley Borough Council in response to the proposal.
Community manager Sarah Miles said: "People are passionate about Sayers Croft and the experiences they have here stick with them for the rest of their lives."
The council is due to make a decision on the application later in the summer.