'No evidence' Jimmy Savile visited Carshalton hospital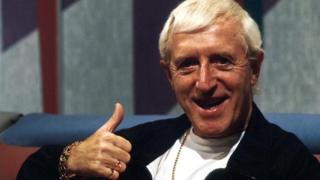 It is not possible to conclude whether Jimmy Savile visited a hospital a nurse claimed she turned the former DJ away from in the 1970s, a report has found.
Queen Mary's Hospital in Carshalton was one of 28 hospitals looked at by investigators examining his sex abuse.
The report found there was "no documentary evidence" Savile attended the children's hospital at any time.
But in a statement the chief nurse said she wanted to thank the nurse "for refusing Savile access to our wards".
The statement from Pippa Hart, chief nurse for Epsom and St Helier University Hospitals NHS Trust, said: "We have no reason to question why the nurse would have made the allegation."
Anonymous nurse
Savile, a Radio 1 DJ who also presented the BBC's Top Of The Pops and Jim'll Fix It, died aged 84 in October 2011 - a year before allegations that he had sexually abused children were broadcast in an ITV documentary.
The Department of Health appointed Kate Lampard QC to oversee the individual independent hospital investigations.
The investigators found he sexually assaulted victims aged five to 75 in NHS hospitals over decades of unrestricted access, with the most detailed reports relating to Leeds General Infirmary and Broadmoor psychiatric hospital.
The investigation at Carshalton was carried out after the nurse told police she denied Savile and three associates access to a ward at Queen Mary's in the 1970s.
Investigators could not speak to the nurse as she had told the Metropolitan Police she wished to remain anonymous.
'Confront and challenge'
The report concluded: "In all probability, it would seem likely that the informant would not have made an allegation without substance.
"However, the investigation cannot conclude one way or the other whether the incident described in the 1970s, as alleged, did occur.
"This is because there is no corroborating evidence of any kind to support the allegation."
It went on to say interviews suggested "there was a culture of protecting children even without a thorough understanding of safeguarding".
And it said: "If in fact Jimmy Savile did attempt to enter Queen Mary's as alleged, the absence of clear guidelines for staff did not prevent a junior nurse from challenging JS and three men on the day in question.
"This may suggest that even junior staff had confidence instilled in them, from others in authority, that it was necessary to confront and challenge.
Claims Savile threatened to stop a BBC Christmas outside broadcast due to be held at Queen Mary's if access was refused were also examined.
The investigators found the BBC broadcast from the hospital at Christmas each year from 1969 to 1972 but Savile was not involved in any of the programmes or officially invited.
The original hospital site closed in 1993 but the Queen Mary's Hospital for Children continues to provide services from St Helier Hospital, also in Carshalton.