Two men who walked out of Epsom hospital psychiatric unit are found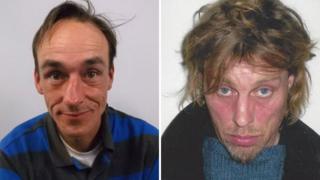 Two men with a history of violence who walked out of a psychiatric intensive care ward of a hospital have been found.
Surrey Police said Jason Bratton, 36, and Neil Emery, 46, went missing from Epsom General Hospital on Wednesday.
Both had been detained under the Mental Health Act and required various medications. There was no indication of a threat to the public, police said.
Emery was found on Friday in Dorking and Bratton in Aldershot, Hampshire.
A member of the public called police after seeing an appeal on social media and spotting Emery at 10:23 BST.
Bratton was located at 12:43 BST following intelligence-led inquiries by Surrey and Hampshire officers.
Neither had medication
Det Insp Peter Harvey, who led the investigation, said: "We would like to thank the public for their help in this search, without which we would not have been able to locate the two men as quickly."
Neither of the men had their phones or any money when they went missing. It is also believed neither had their medication.
Andy Erskine, director of mental health at Surrey and Borders NHS, said the men, who left together, were receiving intensive psychiatric care and had needed inpatient services.
He said he could not give details of their violent past.