Frances Andrade inquest: Violinist died after not guilty court instructions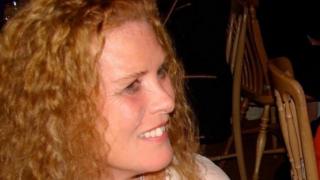 A violinist took a fatal overdose after learning the jury in the trial of the man who sexually abused her was instructed by the judge to find not guilty verdicts for several charges.
Frances Andrade died at her home in Guildford, Surrey on 24 January 2013, a week after testifying against ex-choirmaster Michael Brewer.
Brewer abused Mrs Andrade at Chetham's School of Music in Manchester.
He was jailed for six years for five counts of indecent assault.
Mrs Andrade was 14 when the abuse began in 1978.
Det Con Mark Atkinson, the officer who led the case against Brewer, said: "There was no official process in place [to keep her updated with the trial].
"I would do it in due course. I did not contact Fran about it.
"From what I've heard afterwards, Fran was aware because it was reported in the press."
'Declined help'
The inquest at Woking Coroner's Court heard Mrs Andrade, 48, told her GP and nurses in 2011 that she did not want counselling because police had said it might interfere with her recollections.
But Mr Atkinson said he had strongly advised her to seek help and gave her the contact for the Rape and Sexual Assault Centre in Guildford, although she did not seek counselling.
"I asked Fran if she was getting any help and what type of help she was receiving," he said.
"She advised that she had not got any help because it would have had an impact on the trial.
"I said this was absolutely not the case and that if she needed help I could arrange that.
"I was not aware she had declined help until after the trial."
The inquest also heard that after taking a third overdose on 3 January, the mother-of-four had insisted she did not want to take her own life.
Juliet Mutumbani, a mental health nurse for the Surrey and Borders partnership NHS Trust's Home Treatment Team, said: "Mrs Andrade said she did not take the overdose to kill herself but as a way of coping with the court case.
"Her response was she had a family to think about."
The inquest continues.