Earl and Countess of Wessex attend Guildford WW1 ceremony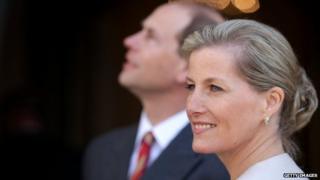 The Earl and Countess of Wessex have attended a service at Guildford Cathedral to mark the 100th anniversary of Britain's entry into World War One.
The commemoration, which was ending with a candlelight vigil, was one of a number of events across Surrey.
A children's candlelit procession was being held in Chertsey while vigils were also being held in Bagshot and Woking.
The floodlights at Guildford Castle were also being turned off.
The Royal British Legion encouraged people across the UK to turn out their lights and leave a single candle burning at 23:00 BST to commemorate the day Britain joined the war in 1914.
'Human tragedy of war'
The vigil, organised by 14-18 NOW, was to echo the comments of Sir Edward Grey, Britain's foreign secretary at the time, who said on the eve of war: "The lamps are going out all over Europe, we shall not see them lit again in our lifetime."
The Reverend Canon Nicholas Thistlethwaite, who organised the cathedral service, said it was to give "an opportunity to reflect on the human tragedy of war".
Guildford borough councillor Matt Furniss said the service included music and readings relating to the World War 1 and also words from the men and women of Surrey who fought in the war.
He said one lantern would be left lit outside the Guildhall in Guildford after the service, but all other public areas would be kept dark.
Surrey councils were also marking the day. At the Tandridge council offices in Oxted, a single electric candle was left in the window, while only the council chamber light was left on in the offices of Mole Valley District Council.
In Godalming, a time clock was unveiled showing the names of 281 men from the town who died fighting in the war.