Churchfields Bowls Club 'to close' after alleged arson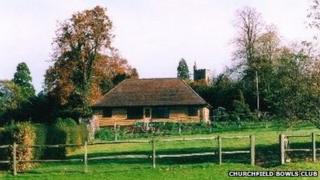 A bowling club will be forced to close down after its clubhouse was destroyed in an alleged arson attack, its president has said.
The Churchfields Bowls Club building in Reigate, Surrey, burnt down in June.
Reigate and Banstead Council, which owns the ground, said it would not be rebuilding it.
Sylvia Wilson said the club would continue until the end of September."If there's no clubhouse, we can't continue," she said.
The club has 40 players and a number of social members, club president Ms Wilson said.
"We've been there for over 20 years, we're like a family."
The council spokesman said the bowling facilities cost taxpayers £10,000 every year to maintain.
David Stevens, 29, of Massetts Road, Horley has been charged with arson in connection with the fire.
He is due to appear before Guildford Magistrates' Court on 10 October.