Funeral held for RideLondon Cyclist Kris Cook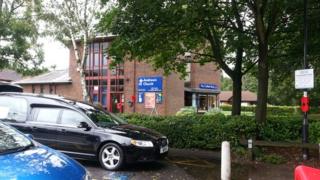 The funeral has been held of a cyclist who died after collapsing during the RideLondon cycling challenge in Surrey.
Family and friends of Kris Cook gathered at St Andrew's Church in Goldsworth Park, Woking, for a public service followed by a private funeral.
The 36-year-old from Woking had a cardiac arrest at Newlands Corner, near Guildford, on 10 August.
He was treated at the scene and taken to hospital but was later pronounced dead.
Since Mr Cook died, more than £47,500 has been donated to his fundraising page.
He was riding to raise funds for Woking and Sam Beare Hospices.
The hospice has said the total amount raised by Mr Cook's fund could reach £60,000 including gift aid and extra donations.
More than 20,000 people took part in the Ride-London Surrey 100 which had to be cut short because of poor weather.
Cyclists also took part in a bike ride in Mr Cook's memory, a week after his death.
Hundreds of people attended the funeral, with about 20 people standing around the sides of the church.
Ian Williams, who worked with Mr Cook for about 10 years both at Feltham Young Offenders Institute and the National Offender Management Service headquarters, said: "He was wise beyond his years.
"He is just full of integrity in every way and I can genuinely say I admired him."
Canon Richard Cook, who lead the service at St Andrew's, said: "Kris was a most remarkable young man who had an astonishing care for people, whoever they were.
"He seems to have had the knack of getting on the wavelength of the people who thought life was against them. He always particularly helped those whose lives were most challenging."
Mr Cook was raising funds for Woking Hospice which is planning on opening a new centre in spring 2016 just yards from the church.
Nigel Harding, the CEO of Woking and Sam Beare Hospices, said: "The fundraising will go towards starting the building work and we will be naming something after Kris, something that is close to his heart."