Thames Ditton travellers moved on by legal action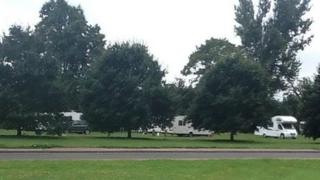 Legal action has resulted in the eviction of a group of travellers who had been camped on land in Surrey since the August bank holiday weekend.
Elmbridge Borough Council was granted a High Court injunction on Monday, allowing it to repossess the site at Weston Green in Thames Ditton.
Local residents had complained about "thumping" music, noisy generators and an excessive amount of rubbish.
They said it was the second time caravans had been on the site.
'Integrate into society'
Councillor Tannia Shipley said by 12:30 BST on Tuesday there were no vehicles left on the land.
James Nicholls, from the Surrey Gypsy Traveller Communities Forum, said while he sympathised with the residents, they should "stop seeing the Gypsy as the enemy".
He said they wanted to keep their culture but needed access to health and education and to be allowed "to integrate into society on settled sites".
The Thames Ditton and Weston Green Residents' Association said since leaving Weston Green the travellers had "taken up residence" at the nearby Colets Health and Fitness Club.
Alex Harris, deputy manager at Colets, later said they were there for a short while before moving on.